---
Prodigy 2.0 Adjustable Bed Review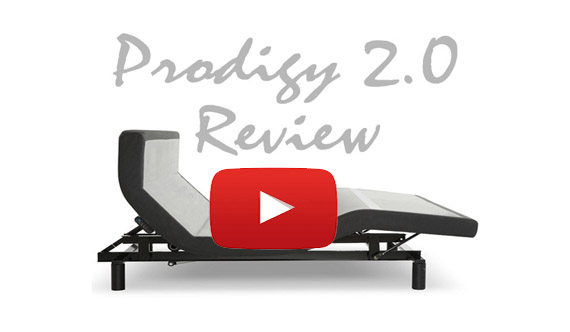 The completely redesigned Prodigy 2.0 adjustable base features our all-new MicroHook™ retention system that keeps mattresses from slipping, eliminating the need for mattress retainer bars. The industry-first capacitive-touch remote and an exclusive app for Apple and Android devices lets you adjust your bed to the most comfortable position effortlessly.

New Features Include:

Capacitive-touch remote. The Prodigy 2.0 adjustable base comes with the industry's first capacitive-touch remote control. The remote offers many features including programmable positions and a snore button. A convenient table-top holder for the remote is included to keep comfort within your reach.

App controls. App controls are now included for both Apple and Android devices, bringing the Prodigy 2.0 base to a new level of function. A sleep timer, a gentle-wake alarm, massage wave, and more are included in the app.

MicroHook™ retention system. Our all-new MicroHook™ retention system keeps your mattress from slipping as the base articulates, removing the need for a mattress retainer bar at the foot of your bed and giving your room a sleeker, more modern look.

Pillow-tilt articulation. Optimize your comfort with the addition of pillow tilt, which adjusts to support your head while you read, work, or watch TV in bed.

Full-body massage. The fully adjustable dual massage, built into the adjustable base, incorporates our wave technology. You can adjust the intensity of the waves through the app, giving you extreme relaxation from head to toe.

USB ports. Located on either side of the base, two 4-port USB hubs allow you to charge up to eight USB devices from the comfort of your bed.

Under-bed lighting. Under-bed lighting provides ambience and functionality. Turn under-bed lighting on and off using your remote control or the app.

Wallhugger® engineering. Leggett & Platt's innovation team developed state-of-the-art technology that puts you at the center of the bed's motion. While other adjustable bases lift your upper body away from the wall - and away from your nightstand - bases with Wallhugger engineering lift you up while simultaneously gliding you back. That means your favorite book and the remote are within reach whenever you're ready for them.

The prodigy 2.0 is now here on our showroom floor! Click here for our complete product review!