---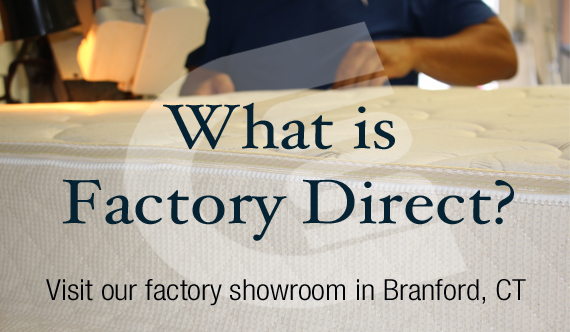 Factory Direct is when a consumer purchases goods direct from the manufacturer. Here at Comfort Sleep Systems we are considered factory direct. Our factory and showroom is located in Branford, Connecticut. We strive to use local materials in our mattresses. Each of our mattresses is made 100% of USA materials.

Why is factory direct beneficial? You as the customer, get to see exactly where your new mattress is made. Every mattress we make is made to order. That means, once you place an order your mattress is freshly made in our factory.

Additionally, it means you are supporting a local business. Several studies have shown that buying through local, independently owned businesses (rather than a nationally owned business) significantly more of your money is used to make purchases from other local businesses.

Furthermore, you get the best materials for the best price! We use the best local ingredients in our mattresses. Each mattress is 100% made of USA materials. Check out our showroom in Branford, Connecticut.